Saturday, November 03, 2012
I've been a successful participant in National Novel Writing Month three out of the past eight years. One thing each of those years had in common was a panicked realization that I hadn't written or produced anything of value for most of that previous year. All it takes, really, is an aggressive and firm deadline and a well-defined deliverable.
But fiction isn't what I want to do right now. Hasn't been for a while. Also, since when did any NaNo project turn out a quality result?
What I want to do, and what I haven't been doing, is making games. Unfortunately, building up a "promising" playable prototype hasn't been sufficient to hold my interest when there are so many other fun things going on.
I moved into a new apartment three months ago and my whiteboards have barely changed at all since then. My printer is still sitting in my bedroom closet. My paper cutter is languishing desperately in a drawer with my notebooks, index cards, and other prototyping supplies. To be fair, my mother died about six weeks ago. And the weeks leading up to her passing were quite full.
But, every time I look at any of this stuff - this game-making stuff - I feel depressed. Like I've been neglecting a friend. Not just any friend, either, but a life-long friend who has always been there when things are bad or good, and now I'm realizing that I've been taking that friend for granted and wondering how I would feel if our roles were reversed. Anthropomorphizing a hobby? Maybe. But the feeling is real, and I have a real need to turn it around.
So what, now? A publicly-stated commitment. No more sitting around waiting for inspiration to strike at an opportune time.
This month, I will finish a game. It will be published and you will be able to buy it (probably at The Game Crafter). Yes, in a month.
On or before November 30, I will take the last step before self-publishing: ordering myself a production copy of my game to review before release. I'll share my progress here. There will be pics.
I hope you enjoy it even more than I do.
posted on 11/03 • blog • permalink
Thursday, April 12, 2012
"I am totally putting that on my bucket list!" - basically the worst person
The etymology of the term "Bucket List" can be traced back to a 2007 film featuring Jack Nicholson and Morgan Freeman. Basically, a couple of old farts make a list of things to do before they "kick the bucket." By virtually every account, this movie sucked bad.
Why would anybody want to attach his or her mortal legacy to the central concept of a film described by critics as "insipidly innocuous"?
Who cares, anyway? It memed so hard that many people don't even know why it's called a bucket list. To be honest, I had no idea this movie existed until I researched the term for this post. No shit. Not even a clue. But, since then, "before you die" has become about as common as turnips.
There has been an explosion of books on the subject. Just search Amazon Books for "before you die", and there you go. 1,001 Places to Go Before You Die. 1,000 Video Games To Play Before You Die. 1,000 Recordings To Hear, 5 Secrets to Discover…etc., etc.
Is this "before you die" business supposed to create some sense of urgency? Because it doesn't. In fact, if you really think about it, it probably just generates anxiety. You have to think about dying, first of all. Which is, face it, a huge unknown for every human under the sun. And then many of those titles include the word "Must." in them. You must...before you die.
Each one of these books does the following:
Gives the reader an almost immeasurably huge task to accomplish (read 2,001 books).
Implies that the task must be completed (or else…what? we haven't lived?)
Provides only the haziest of time limits for finishing
How are we supposed to know if we even have time to read all those books, play all those games, visit those places? We don't know how we'll die, and we sure as hell don't know when. And, reminded of our own mortality (thank you, editors and publishers of these tomes), we're probably not inclined to go out and spend our remaining time on this Earth checking off items on a fucking list that someone else made.
Probably the biggest problem with maintaining a bucket list is this: it makes a Hallmark moment out of what is, for most people, an understanding as personal as it is universal. This is the basic wisdom dropped by Mr. Bowles in the top-left corner of this web page (which, in an excellent example of dramatic irony, actually became Brandon Lee's epitaph after he died at a young age):
Our time here is limited, even though it doesn't seem that way day-to-day.
Trivializing this in the form of "...Before You Die" books full of trite examples of games, literature, or songs is just a way for marketers to sell us those games, books, and music. They're doing it the same way they sold us the American Dream in the first place. You must go to school and earn an advanced degree. You must go $250,000 into debt to buy a home. You must sign a 30-year mortgage. You must get married, raise a family, grow wealthy. You must have a lot of stuff. If you don't, you're not successful.
You must read these one thousand and one books, or you haven't lived.
That's not life! That's just a bunch of shit people are telling you to do.
A bucket list also isolates you. You have your own list of books you have to read. Movies you have to see. Places you have to go. It's all about you. Don't we know better, though? If happiness is all about creating meaning in your life, then what does it mean that you would be so self-centered as to create such a thing as a bucket list?
We are happiest as human beings when we connect with people, help others, and provide value to those we care about. Your bucket list isn't valuable to anyone. Maybe not even you.
List-making does have some value, though. It's a great way to set goals visualize even small successes. One problem here is the deadline (pun intended) involved.
Why does it have to be a list of things to do Before You Die? Why not:
Hip List: Things to Do Before You Get That Hip Replacement
Get Out of Bed List: Things to Do Before Lunch
Just Me List: Things to Do When You Have Time to Yourself
Fun Times List: Fun Things to Do with Your Friends or S.O.
Bang Your Head Against A Wall List: Things to Do When You're Bored So You Don't Kill Anyone
You could have tons of lists, all for different purposes, and they don't even have to have any time constraints involved! If you really want to add some urgency, don't resort to arbitrary deadlines like "when you die" or "some day." Put a date right on the specific item you want to accomplish, and then do it by then. It's much more satisfying than looking at your stupid list of 300 or so bullshit activities like "climb a mountain" or "eat kangaroo" or "fart into a bent tube and smell the other end" and thinking, "Hey, I've got at least 40 years…50 at the outside!" Might as well just watch TV and not sweat it, then.
You can make lists if you want! Just not a "me me me" bucket list. Make a list of things you find satisfying. Maybe it's a simple list full of generalizations, but whatever—you can make other lists from that. And once you've got a few lists down, and you've thought about what you really enjoy in life, you just might find that a lot of the items on your various lists are more about other people and the world around you than they are about you, personally. Isn't that satisfying?
Do you have a bucket list? Go get it and tear it into tiny pieces. Burn it. Throw it out. If you are worried that you'll forget something on that list, then consider that you probably don't feel too terribly Before-I-Die passionate about those items anyway. It might have seemed like a neat idea at the time, but whether you meant to or not, you wrote the thing because someone made a superficial, manipulative, and just plain terrible movie. And now people are writing superficial, manipulative, and terrible books in the same vein.
Your bucket list? It's as stupid as those stupid books.
EDITED TO ADD: Thanks to Jack for pointing out that I've been mis-attributing the quote on my site to Brandon Lee for years now. This is corrected now and forever!
posted on 04/12 • blog • permalink
Thursday, February 23, 2012
My attempts at Gettin' Somethin' Fuckin' Workin' vis-a-vis a board game featuring spaceships that fly and shoot things have finally hit a wall. That wall: shit got complicated!
Seriously complicated. When I found myself brushing off my C-sharp skills and starting to build a winforms application to run numbers—to try to balance some basic values—I decided it was time to take a step back from Delta Velocity. Maybe a 2-to-5-player game playable in an hour with more than just a couple of basic mechanics at its core is a little too ambitious if I'm going to ever finish. So, Delta Velocity is hereby shelved until some future date.
But, a new game is born!
The premise: diabolical machine minds have become self-aware and are competing with one another for control of the human race. Players will subjugate puny humans, then use them to infiltrate and control pharmaceutical conglomerates, military industrial manufacturing facilities, medical research foundations, and even the governments of major world powers. Mighty humans can further each machine's cause. But watch out for Willful humans! These wildcards—John Connors, if you will—are wise to your plans and will do anything they can to disrupt them.
At its core, the game is about territory acquisition and control between two players, with a race-to-the-end trigger that initiates end-game scoring. The play spaces will be dynamic, both during a game and from game to game. And, in keeping with my deeply-held belief that players must be able to "identify" themselves within the context of the game, each player will be allowed to choose from among a small number of sentient AI personalities, each with its own abilities.
Ambitious, yes! But not nearly quite so ambitious as earlier projects. I'm excited to see where this goes.
posted on 02/23 • blog • permalink
Tuesday, November 29, 2011
Over a year since my last substantial post? Fuck it, whatever! Here's a short mix for you. It's relatively high energy and has some easily recognizable content, and at around 25 minutes long it's excellent for a short workout—when you hear the last track, start your warm-down walk or cool-down stretching, and when the music's over you're done!
Track List:
Röyksopp - What Else Is There? (trentemøller remix)
Adele - Rolling in the Deep (The Lost Boys remix)
MSTRKRFT - The Looks
Alex Gopher - Virages (Light Year remix)
Staygold - Video Kick Snare (Dada Life remix)
Foster the People - Pumped Up Kicks (Grouplove & Captain Cuts remix)
There you go. Not a lot of fancy mixing—and none at all on the last cut, even—but them's some nice tracks, right there, is what them is.
.:Download One Time, In the Dojo:.
posted on 11/29 • music • permalink
Thursday, November 04, 2010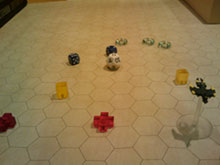 A couple of Saturday mornings ago on my way to pick up coffee and some breakfast, I was ambushed from behind by an idea for a board game. Like, it really crept up on me. I was coping with a few niggling thoughts, randomly recalled a couple of board games I enjoyed when I was a young teenager, and so I started just, you know, kind of brainstorming ideas for tabletop and board games.
The next thing I knew, one of these ideas had me in a choke hold and would not let go.
"I just had a great idea for a board game!" I cheerfully announced to the girl behind the counter at the coffee shop.
"Uh huh," she said. She blinked once at me, then deadpanned, "Large iced coffee?"
"Give me two."
posted on 11/04 • blog • (133622) comments • permalink
Friday, October 22, 2010
I first heard about 750Words.com a few months or so ago. I gave it a shot and said to myself, "Hey, that's neat!" Then I forgot all about it.
But, for the past couple of days, I've been availing myself of this free service. And it is premium.
The basic idea surrounds the concept of "morning pages," wherein a writer scribbles out (usually, around) three pages, by hand, first thing in the morning, in order to (I suppose?) limber up for the rest of the day. The content, style, substance, and quality of these pages does not matter—the goal is to simply write anything at all without interruption for a certain span of time, and this is an exercise any writer and even some non-writers will tell you is valuable.
Non-Writers Should Do It, Too
Why? Because memory sucks, and all brains everywhere are half full of garbage at all times. There are only two things anyone can keep firmly in mind: what you're doing now, and what you're going to do next. Beyond that, your brain is constantly trying (and failing!) to hold on to all kinds of minutia that it thinks might be somehow important or pertinent to one of those two things.
Your brain is constantly saying, "Don't forget…don't forget!" So, what do you do? You write down your thoughts in a safe place where you can find them later.
Ah, but here's the thing: the vast majority of the thoughts rolling around in your brain at any given moment aren't worth remembering anyway. You know this, so you don't bother writing them down, and they persist and nag and clog up the works and generally prevent you from thinking.
The solution is to just go ahead and get those thoughts out of your head.
Get It Out Of Your Head
750Words.com modernizes this process. You type instead of writing by hand, you get a real-time word counter, and a little green block appears when you hit the arbitrarily-chosen 750-word mark. Brilliant! It's freaking painless.
More importantly, something magical happens as you write. Thoughts leave your mind, go through your fingers, and end up on a screen. When that happens, your mental load is lightened and you can focus on more important tasks.
It doesn't take that long, either. Think about it. How fast do you type? How quickly are you able to latch onto thoughts bouncing around in your dome? 750 words is really not altogether so many. Spend 15 minutes getting that shit out and you'll be thinking (and writing, if that is your inclination) more clearly for the rest of the day.
Don't be scared. Go sign up—you can even sign in through your Google or Facebook account so it's extra super easy.