Thursday, November 04, 2010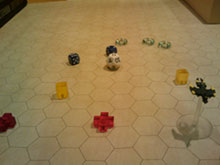 A couple of Saturday mornings ago on my way to pick up coffee and some breakfast, I was ambushed from behind by an idea for a board game. Like, it really crept up on me. I was coping with a few niggling thoughts, randomly recalled a couple of board games I enjoyed when I was a young teenager, and so I started just, you know, kind of brainstorming ideas for tabletop and board games.
The next thing I knew, one of these ideas had me in a choke hold and would not let go.
"I just had a great idea for a board game!" I cheerfully announced to the girl behind the counter at the coffee shop.
"Uh huh," she said. She blinked once at me, then deadpanned, "Large iced coffee?"
"Give me two."
posted on 11/04 • blog • (133622) comments • permalink