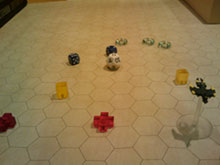 A couple of Saturday mornings ago on my way to pick up coffee and some breakfast, I was ambushed from behind by an idea for a board game. Like, it really crept up on me. I was coping with a few niggling thoughts, randomly recalled a couple of board games I enjoyed when I was a young teenager, and so I started just, you know, kind of brainstorming ideas for tabletop and board games.
The next thing I knew, one of these ideas had me in a choke hold and would not let go.
"I just had a great idea for a board game!" I cheerfully announced to the girl behind the counter at the coffee shop.
"Uh huh," she said. She blinked once at me, then deadpanned, "Large iced coffee?"
"Give me two."
Delta Velocity
While the caffeine kicked in, Delta Velocity was conceived. Now, I've designed board games and pen and paper RPGs before. What sets this one apart from the others is one simple thing: Delta Velocity might actually be fun, and early-iteration play tests against my non-gamer significant other seem to confirm this.
Anyway, I'm not really sure what train of thought led to this conclusion, but I decided that it would be fun to play a board game version of those old arcade scrollers like 1942 and Raiden. This was quickly boiled down to a single, tweetable razor statement:
Delta Velocity is a board game about space fighter combat in the spirit of classic vertical-scrolling arcade shooters.
If you're unaware, a razor statement in game design is a brief sentence that describes the core idea behind a game and is intended to help focus design decisions by limiting features, aesthetics, mechanics, etc. to only those things that can withstand a cut from the razor. At least, that's the intent. Creativity may flourish within boundaries, but designers often enjoy a free hand early on in the idea phase.
Fortunately, due to their brevity, razor statements are necessarily vague if not subject to interpretation. To really narrow it down, you'll have to actually play your game.
Design to Play, or Play to Design?
The problem is that you can't play anything that hasn't been created, so you have to create something first. But even a simple game concept could take weeks for an amateur/spare-time game designer to cobble together. What happens if you put in all that time and energy only to find out that it was all a huge waste because your idea sucks and the result is no fun?
Chill out. Only Gods spring forth fully-formed, but mortals and their creations go through a much more iterative process before coming into their own. It isn't important to have a complete rough draft of all your rules and mechanics laid out before you sit down to play. You certainly don't need any fancy artwork or playing pieces or even a game board. You'll have design documentation, but at this early hour that's probably just a messy pile of notes that is totally indecipherable by anybody else in the world but you plus anybody you might be working with on the project. That's fine! Trust me, nobody else wants to read it anyway.
Ten days into this project, my design documentation is a couple of 2' x 3' whiteboards, some date-stamped photographs of those whiteboards prior to erasing them, and a small pile of Google docs.
Design before play isn't important. What's important is that you get something, anything at all to do with your game, playable as soon as possible. Play is the end goal, and play should be happening all the time as you design your game. So…
Build a Playable Prototype: NOW. TO-DAY.
For Delta Velocity, I knew that movement and shooting would be the primary defining mechanics. In vertical-scrolling shooters, the field of play moves over a background, and the players maneuver their ships relative to that. All the Bad Guys sort of drift down the screen. That was all I knew about my conceptual play space. How could I do that in a board game? Did I want squares? Hexes? Movement with a ruler? Would players take turns, or write down their moves and reveal them all at the same time? Who controls the bad guys?
My first Delta Velocity prototype:
An old Epic WH40k figure to represent one player
A piece of paper with dots on it to represent the centers of where squares would be (dots are way easier to draw than straight lines)
A small handful of loose change to represent the bad guys
And that's it. Not even any dice, just pieces moving around and across a "game board."
Build Another Prototype: Faster, Faster!
Before adding dice, I considered the "three-way spread shot" so ubiquitous to the type of game I was modeling and decided that a lack of this would not pay proper homage. Squares just didn't feel right for a three-way shot and the 90-degree angle created by the two side shots seemed too tight and awkward when imagined, so I tried hexes next. Just dots again—drawing hexes would take too long, and it's pointless to waste any time at all with presentation at this early stage. With my dotted "hex map" and a couple of adjustments to movement rules, it became quickly apparent that the movement mechanic for my game was reasonably fun, easy to understand, and intuitively conveyed part of the core idea of the game.
Iterate!
It was time to add shooting and vary it up a bit. I had rough rules for movement already, and quickly roughed some very skeletal shooting rules. Using the same hex map, spaceship miniature, and coins, I finally went for the dice. Ah, but look—there are all kinds of dice. Which ones should I use?
I have always been a fan of the old six-sided die, but it doesn't really allow enough variation for what I wanted. 2D6 is nice because of the distribution of odds leaning mostly toward rolls of 6, 7, and 8, but wouldn't it be too cumbersome to roll each and every shot? Wouldn't it be more fun to roll a half dozen 12-sided dice all at once instead?
You Never Know Unless You Try
By sticking to rapidly (even hastily!) built prototypes and adding only a little bit to the game at a time, not only have I been able to keep my design focused and on track, but also I have been able to actually play my game a few dozen times already.
After trying things out and focusing only on one feature or design element at a time, you can get in quickly, see what's wrong, make an adjustment, and move on. For instance, I was unsure of what type of dice to use. I narrowed it down to two choices, then simply tried them both, took notes about each experience, and picked the one I liked best.
The point is, you never really know whether something is going to work unless you try it out first.
Getting Fancy
You might start to get bored with scratch paper and quarters from your laundry bucket. That's fine! A lot of board game designers insist that your game will go nowhere unless it's fun with nothing but construction paper and dice. Balls to that, I say. A big part of what makes board games so much fun is that their pieces often resemble toys, so there's absolutely nothing wrong with making prototypes that are pleasing to the eye or hand. Just don't spend too much time on it.
I ended up at Office Depot and bought a bunch of cheap little colored plastic magnets to use as counters. I replaced my sketchy dotted hex maps with a vinyl battle mat from a local games shop that was printed with actual hexes (and is wet-erase marker friendly), and picked up a bunch of dice. I have a pair of small magnetic dry erase boards to use as record cards—I can rough out a record card on the board in marker, and the magnets stick to it for counters. I ordered some cheap plastic spaceship miniatures from web store in the UK (who knows, maybe Delta Velocity could be a miniatures game). For a deck of cards, I have scribbled on the unruled side of a stack of 3x5 index cards (the lines on the ruled side help obscure what's on each card).
None one bit of this stuff is high on production value, nor should it be, but it all serves to either make the play tests more interesting (ie, less boring and repetitive) or to help me test out a mechanic to quickly get to the next segment of the design.
One Note of Caution
Don't worry too much about nailing down specifics at this stage, and don't spend too much time making pretty stuff (unless you're an artist and you're creating concept art for your game). It's fun to look at manufacturers and publishers and fantasize about what actual bits and parts a game box might eventually contain, but until your game is balanced and totally playable, that's all just masturbation. It doesn't have to be pretty, it just has to be fun.
Go Play
If you add small new features or tweaks to your game and play it on a frequent basis, then it should stay fresh and fun for you as a designer up to your release date…hopefully longer! Challenge yourself to experiment as much as possible and as frequently as you can, and that means prototyping early and often.
posted on 11/04 at 10:00 PM blog • (133622) comments • Permalink
http://moodle.obu.edu/mahara/view/view.php?id=1096
viagra, [url="http://aluniversity.edu/elearning/blog/index.php?userid=28114">viagra</a>,
http://moodle.mspp.edu/mahara/view/view.php?id=610
<a ]viagra[/url], [url="http://moodle.perelandra.edu/moodle/blog/index.php?postid=51293">viagra</a>,
http://aluniversity.edu/elearning/blog/index.php?userid=28114
<a ]viagra[/url], <a >viagra</a>,
http://moodle.perelandra.edu/moodle/blog/index.php?postid=51293

Closeing Spinn——->

Posted by viagra on 05/19 at 01:37 PM